Montgomery County Sheriff's Office K-9 Unit wins seven awards at National Police K-9 Scent Detection Contest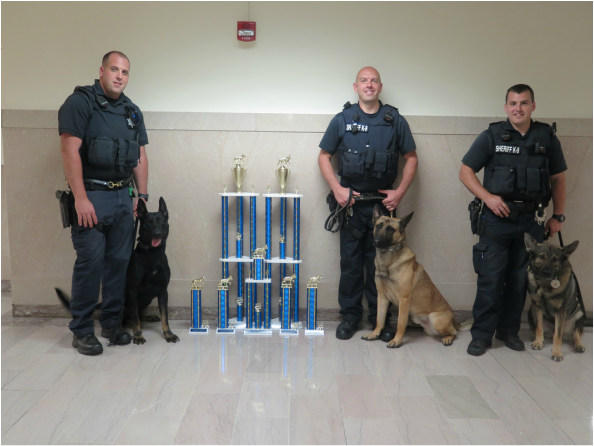 ​
Story by Teresa Harris Communications & Public Relations Coordinator for MCSO June 2016
The Montgomery County Sheriff's Office K9 Unit competed with the top 51 U.S. Police K9 teams to test their cadaver, explosives and narcotics detection skills, and won seven awards in various categories. The U.S. Police Canine Association National Detector Trials took place on June 5 – 8, 2016, at the Penn Vet Working Dogs Center in Grays Ferry. The event was hosted by Penn Vet and the Penn Police Department.
"I am extremely proud of our K9 Unit's work," said Montgomery County Sheriff Sean P. Kilkenny. "Getting this certification lets us know that our K9s are extremely reliable."
The K9 Unit qualified for the national competition by getting top scores in the regional detector trials held in March 2016. The members were quick to credit their success to the other K9 units with whom they regularly train. Though, the unit members spend time training their K9s individually, working with other units allows them to practice specialized scenarios and share knowledge, and experiences. Being on daily patrol in the courthouse and regularly assisting other agencies also helps keep their skills sharp.
"We didn't get into the K9 Unit to win awards," said K9 Unit Commander Cpl. Richard Miles. "But, winning the awards shows how dedicated our unit members are to making sure they stay at the top of their game."
Here is a list of the awards that the MCSO K9 Unit won:
2nd Place – Car Explosives: Dep. Sean Forsyth & Bikkel
2nd Place – Room Search Explosives: Dep. Sean Forsyth & Bikkel
3rd Place – Overall in explosives: Dep. Sean Forsyth & Bikkel
2nd Place – Car Narcotics: Dep. Thomas Franklin & Behr
3rd Place – Overall in narcotics: Dep. Thomas Franklin & Behr
2nd Place – Overall Department Team Award: Dep. Thomas Franklin & Behr and Dep. Trevor Keller & Artus
14th Place – Overall in narcotics: Dep. Trevor Keller & Artus
---