---
In Memory of Dean Alan Raifsnider
Dean Alan Raifsnider, 56, died February 25, 2014 in his Laureldale Borough residence after a long battle with cancer.
He is survived by the love of his life; Richelle "Shelly" (Eisenhart) Raifsnider, whom he married May 20, 1995.
Born in the Reading Hospital on May 14, 1957, he was a son of Donald B. Sr., and Joan L. (Eyler) Raifsnider of Laureldale.
He was a 1975 graduate of Muhlenberg High School and a graduate of Johnson & Wales University, Providence, Rhode Island.
Dean has been employed as a Deputy Sheriff with the Berks County Sheriff's Office since May 27, 2009.
He was a member of the Leesport Fire Company (Union Fire Company #1); Mount Pleasant Fire Company; Deputy Sheriff's Association of PA; Berks Fraternal Order of Police Lodge #71 and the Fire Police Association of Berks County.
Dean enjoyed model trains, cars and collectables. He also loved working with Boy Scouts but most importantly, serving his community.
Other survivors include a brother, Donald B.Jr., husband of Robin A. (Derr) Raifsnider of Laureldale and many nieces and nephews.
Services will be held Saturday, March 1st at 10:00 am in Calvary Lutheran Church, 1009 Elizabeth Avenue, Laureldale, PA 19605. Viewings will be held Friday, February 28th, from 5:00 - 8:00 pm in Kuhn-Stitzel Funeral Homes & Crematory, Inc., 3300 Kutztown Road, Laureldale and Saturday, March 1st from 9:00 - 10:00 am in the Church. Burial will be Saturday, March 8th at 10:00 am in Forest Hills Memorial Park, 391 West Neversink Road, Reading, PA 19606.
In lieu of flowers, contributions may be made to Calvary Lutheran Church at the above address.
For online condolences, visit www.kuhnstitzelfuneralhomes.com
---
---



2013 DSAP Convention


---
---
Letter from the President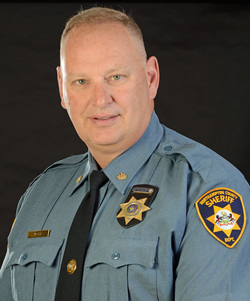 Deputies and Members,

It is with great honor that I introduce myself as the President of the Pennsylvania
Deputy Sheriffs' Association. I am Michael E Mohn. I have been a Deputy Sheriff in the County of Northampton, and a member of this organization for nearly 25 years. First on behalf of this organization, I would like to thank our outgoing President Jack Dolan and Treasurer Mary Snyder for all their hard work and dedication to the Pennsylvania Deputy Sheriffs' Association.

With the installation of the new board we have many goals we would like to achieve. Presently there are fourteen hundred sworn Deputy Sheriffs out of twenty five hundred sworn Deputy Sheriff's as members. To be a truly successful organization we need all sixty seven counties at 100% membership. There is an old saying that there is "strength in numbers"- this is the truth. Along with the membership of sworn Deputy Sheriffs', Associate membership needs to increase. Associate members are those people who are not sworn but support our mission as Law Enforcement Officers.

Another goal I have is to increase participation among Deputies from all regions of the Commonwealth. This organization needs those younger Deputies who are just starting their careers in law enforcement to become more involved with the Pennsylvania Deputy Sheriffs' Association. Each and every county is allowed to have a certain number of County Representatives who are extremely important to this organization. These County Reps are the lifeblood of this organization. The Reps help inform the Board of what is going on in each County, and this allows the Board to make decisions which will make this organization prosper. Remember this- YOU are the future of this organization, and YOU are needed to carry on those goals so many of us have literally fought to obtain.

Another goal this board is looking forward to is fostering a prosperous relationship with the Pennsylvania Sheriffs' Association. In fact both Boards have already met and have the same goal in sight. That goal is to make the time honored positions of Sheriff and Deputy Sheriff get the respect they deserve.

In closing I would like tell all members to have safe, and blessed holiday.


Fraternally
Yours,

Michael E Mohn, President, D.S.A.P



---
---
CONGRATULATIONS!!!!!

2013 TOPGUN WINNER



EDWARD REPYNECK



Presenting award is 1st Vice President Paris Washington & Southeast Regional



Director Roy B. Herbert



MARKSMAN

1ST PLACE – JENNA LONG – DELAWARE COUNTY

2ND PLACE – JIM OTTO – NORTHAMPTON COUNTY

3RD PLACE – BARTON ROBINSON – DELAWARE COUNTY



SHARPSHOOTER

1ST PLACE – JEFF MILLER – NORTHAMPTON COUNTY

2ND PLACE – NICK THOMAS – DELAWARE COUNTY

3RD PLACE – EDWARD MURPHY – DELAWARE COUNTY



EXPERT

1ST PLACE – SHAWN MCKNOW – WESTMORELAND COUNTY

2ND PLACE – NOAH HUGHES – CHESTER COUNTY

3RD PLACE – MATTHEW HITTINGER – DELAWARE COUNTY



FEMALE

1ST PLACE – AMANDA VIGLIONE – DELAWARE COUNTY

2ND PLACE – JENNA LONG – DELAWARE COUNTY



2 – PERSON TEAM

1ST PLACE – ED REPYNECK & JEFF MILLER – NORTHAMPTON COUNTY

2ND PLACE – SHAWN MCKOWN & JASON GRECCO – WESTMORELAND COUNTY

3RD PLACE – JENNA LONG & CHRIS MAHONEY – DELAWARE COUNTY



4 – PERSON TEAM

1ST PLACE – ED MURPHY, MATT HENNIGER, AMANDA VIGILIONE

DELAWARE COUNTY

2ND PLACE – WALT WERKHERSER, JAMES OTTO, ED REPYNECK, JEFF MILLER

NORTHAMPTON COUNTY

3RD PLACE – CHAD HANKINSON, MIKE BOTJER, RAY PAQUETTE, RAY GABIKAN

WAYNE COUNTY
---
---
Active shooter training will be starting up again after first of year.
Please contact the Association in you are interested.



Active Shooter Training at Fayette County PA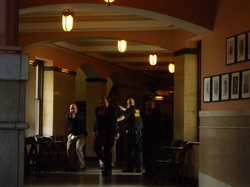 Fayette County Deputies training at the County Courthouse
Deputies in Fayette County received training on April 13, 2013 on reating to an active shooter. The training was held in Fayette County Courthouse.
---
Active Shooter Training at Westmoreland County PA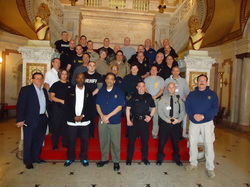 Westmoreland County Deputy Sheriffs'
An Active Shooter Training class was held in Westmoreland County April 14, 2013
---
---
COUNTY REPS

We are still looking to fill a few vacant positions. Please check our County Reps page to see if your county is covered! County Reps



---
RAPID RESPONSE TO ACTIVE SHOOTER TRAINING

PRESENTED BY THE DEPUTY SHERIFF'S ASSOCIATION OF PA

This course provides the Law Enforcement Officer (LEO) with issues and training on how to respond to an active shooter incident in the workplace. This training is designed for the Sheriff's Office and support law enforcement that will respond in a support role

Time: This is an 8-hour (which includes academic and skill sections)

Cost: FREE – To all participants that are Sheriff's Deputies and members of the Deputy Sheriffs Association of Pennsylvania (DSAP)

or LEO support staff (Must have an associate membership to the DSAP)

Everyday we are faced with violence in and around the courthouse. Active shooter incidents are on the rise. Are you prepared for such an event? The Southeastern Regional Director of the DSAP has offered to the members and associate members training on how to respond to such an incident.

Topics Covered:

What is and active shooter event?

How to plan for this critical response

Tactics to be used

Live drills within the courthouse

Explanation of the ICS

Examples of creating an Emergency Action Plan

Non LEO actions to take in such an emergency

Completion Certificate

Both Delaware, Chester, Fayette and Westmoreland County Sheriff Offices have received this training and other counties are preparing to receive it.

If you wish to have this course at your facility, contact the DSAP for more information (215) 672-8188






---

Blue Bloods Motorcycle Club
Retired Deputy Sheriff John M Hamilton Sr. (Philadelphia County) has started a chapter
of the
Blue Bloods Motorcycle
Club in Pennsylvania. This Club was founded in Georgia by
Police Officer, Craig Garner. After speaking with Officer Garner, I decided to make the trip to Georgia to meet the rest of the Brothers. I met the National President, the Vice President and several members. They treated me as if I have been riding with them for years. I was so impressed at how I was treated that I left with a true sense of love for these guys! It was while I was there I was asked if I was interested in chartering a Pennsylvania chapter. The Blue Bloods are a Law Enforcement Motorcycle Club made up of local, state, federal, (including Military) active, reserve and retired Law Enforcement Officers who have joined together to ride motorcycles. There are currently chapters in Georgia, Alabama, Connecticut, Colorado, Texas and Pennsylvania. We believe in God, Love of Country, and a TRUE sense of Brotherhood! If you want to become a member of The Blues Blood Motorcycle Club of Pennsylvania, please contact me at 215-817-5626. Current members of this new PA Chapter include Philadelphia Sheriffs, Philadelphia Police, Montgomery County Sheriffs and Philadelphia Corrections Officers.
---
---